If we have to evaluate the week, we must admit that last Friday saved us with our butts. The bear market has been pushed back in again on the S&P500, so the sudden interest in "risk assets", as we say in jargon, should give us the opportunity to finish less badly than we feared. However, it was Friday the 13th, and the market was at its worst. You can't read a newspaper without encountering the crazy association between the words stagflation and stagnation, and then, as usual, when all seems lost and most of your clients tell you they'll never trade again and it's going to be fine.
Vote May 16, 2022
Download the podcast
the question
Thus, the question we can now ask ourselves is whether it was only last Friday or whether something really changed in the imaginary world of market finance and the long-term vision of investing. I have to tell you looking at the futures this morning, it looks like we shouldn't have too many illusions, and it's like guys have covered our shorts for the weekend and we're off for 4 days.
We wouldn't lie to each other, nothing was settled between Thursday evening 11pm and Friday morning breakfast time. Inflation still exists. Oil is still at or near $110 and profits for Aramco and other Exxon are still staggering, while our trips to the pump remain frustrating and worrisome. The Fed is doing what it can but can't seem to make miracles, especially since we won't have a clear indication of the impact of a rate hike in the next twelve hours, and for now, making stock market predictions is about as easy and effective as throwing a bottle into the sea. In the Central Pacific, the Coast Guard predicted landing within 48 hours.
not finished
Looking at what's being said in the weekend press, we obviously have a feeling that no one knows something and everyone feels their way, although the trend seems to be willing to be careful and say we haven't found a bottom yet and that it could rock again. Anyway, what we can remember – watching the markets – is that instability is still in order and the 2% daily moves are still too much to say we have found some semblance of stability. Not to mention that volatility can no longer exceed 39%, which could be an interesting sign, not to mention that – according to experts – panic selling hasn't occurred and investors are instead tempted to tighten their buttocks and cling to the barrier. , of cracking miserable and selling everything at the bottom of the hole.
Unfortunately, if there is one certainty in the wonderful world of the stock market and all the people who know, who buy at the lowest and sell at the highest, it is that there will never be a bottom line until we get our old panic sells out. Yes Yes. So now I let my hair grow out and start eating honey and fresh hand-caught salmon from the river thanks to the fact that I let claws grow. But let's say that for now, you're still in a "suspicious" situation. Not to mention that when I read my first articles on Monday morning, it started with Lloyd Blankfein, Darth Vader of Goldman Sachs, who said there was a very, very strong possibility of a recession, even if the Fed had a "very small chance" of hitting a soft landing. . Or seeing a group of experts (who we're careful not to mention again – to avoid sarcasm) think we haven't hit the worst of the year yet, I wonder to say it's not really worth playing the champ.
distrust monday
So I'm going to start the week wary of Friday's massive bounce and wonder if we really have a kick to keep going or if the weekend's covered shorts will come in and give us a layer. However, it will be interesting to see that last Friday, everyone threw themselves into the overgrown things that no one had wanted for weeks. I'm not sure everyone is rebalancing their portfolios to get back to growth and dump in value, but this sudden resurgence of interest should still be noted. I don't know, we can randomly notice Coinbase "moves", which went from $40 to $67 in two sessions. Meanwhile, we had Shopify that got $100 back in 48 hours. From $300 to $400. Or even funds like AMD or Nvidia, which no one wanted on Wednesday evening, and which suddenly found their colors.
It remains to be seen if all this can continue. Very early this morning, futures indicated that it could. But surprisingly, since I woke up, it has only gone down. Right now the S&P500 is open at 0.6%, but no later than 5am, and New York is due to open more than 10am, leaving us enough time to turn the coat over a few times by then.
Asia
On Monday, Asian markets started the session thinking things would be fine and tried to ride Friday's wave. A wave that will carry them through in a very short period of time, since we saw the Chinese economic numbers come out and we confirmed the slowdown in the economy in April, we suddenly contracted. True, it must be said that it was a huge surprise and that we didn't see it coming. Half of the major Chinese cities were under "lockdown" throughout April due to the coronavirus, and suddenly, we were surprised by the slowdown in the economy. Fortunately I was sitting on my seat, or else I would have fallen out of surprise.
With that said, Japan rose 0.25%, Hong Kong moved from green strongly to slightly red, and China fell 0.25%. Oil has calmed down a bit this morning and is trading at $106.84 for WTI and $109 with dust on Brent. Gone… Yes, no, I won't even talk about it, gone. Because honestly who cares? Cryptocurrencies are still on the brink and it is not clear if the $30,000 bitcoin will definitely collapse or if this will be a stumbling block to reach the expected 100,000 by the end of the year, like all years. At the moment, Bitcoin is at $30,333 while Ether is at $2,075, for those who are still interested, even if it is more trendy.
In today's news
We are talking about the fact that the Swedes and the Finns will join NATO. And it will be really fun to see what happens. Especially since the Russians did not seem very happy because NATO is getting closer than ever to its borders. The Americans continue to push their pawns in the region, and it will certainly end well. Especially with a completely senile man in power. As NATO expands, there is also an excerpt in the Financial Times that says long/short hedge funds that shouldn't lose much money in bear markets have lost an average of 18.3% since then. The start of the year and some are starting to reduce their exposure to stocks "because it's too hard".
We come to the news on Elon Musk. Yes, because from now on we will need a special section just to talk about it, as not a single day goes by where the Tesla boss does not make a dozen tweets to give his opinion on everything and everyone else. At the moment, we are passionately excited about the topic of Twitter, since since last week it is no longer certain to buy back a box that "accidentally" contains too many fake accounts. Something we didn't clearly know the previous week. Musk also clashed with Twitter's legal department over allegations that the site's confidentiality clause was breached as part of the acquisition. The only thing the "legal" department did not understand; is that the law does not apply to Elon Musk. Elon Musk is the law. As usual, the Tesla CEO is leveling his Twitter accounts.
And that's not all, Musk also praised Netflix for encouraging its employees who didn't like the streaming hero's content to take time off. On the other hand, Musk has not yet made up his mind about the weather, the voting results in Switzerland and the burgundy snail breeding in captivity, but that won't be long.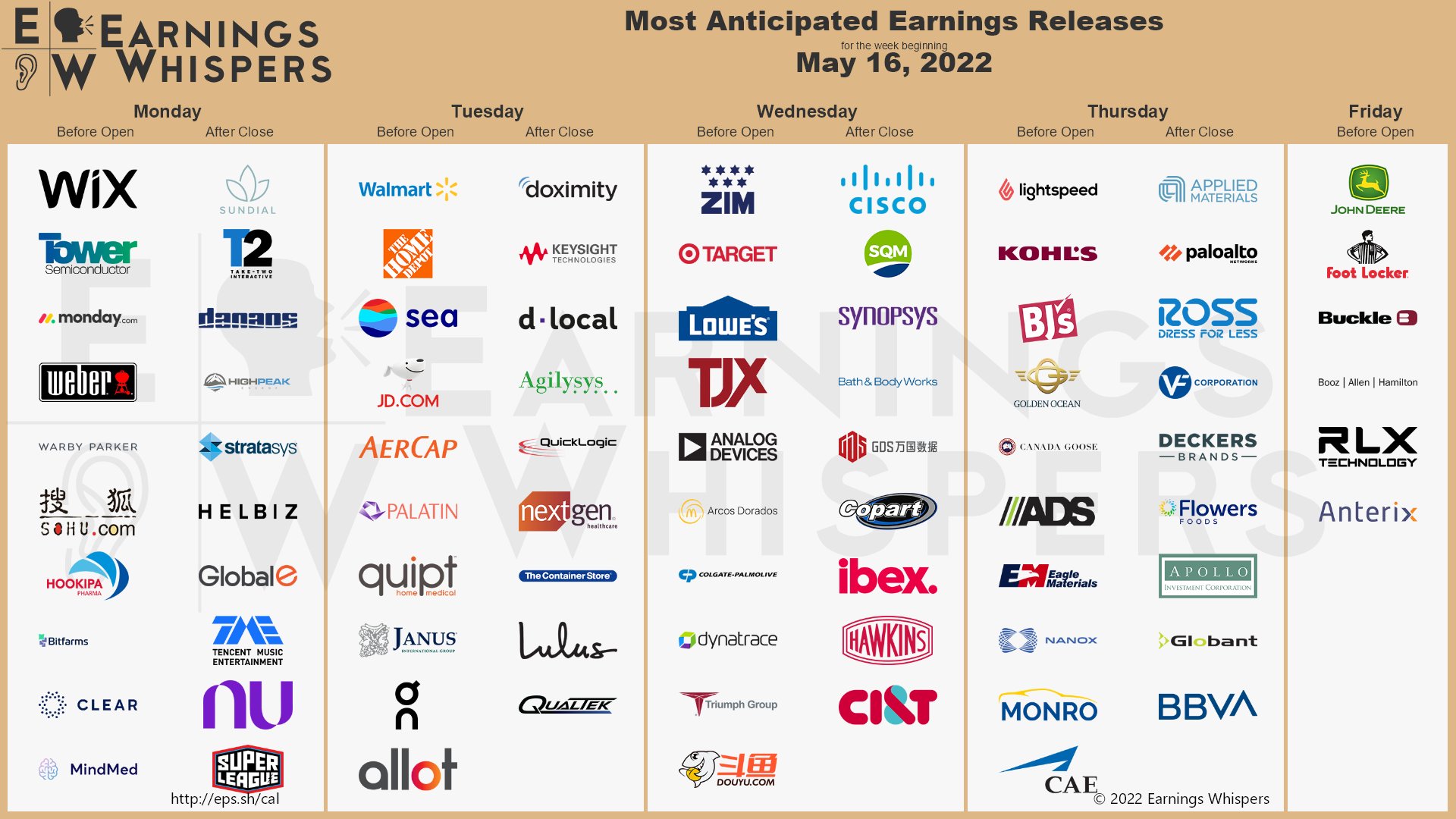 Coming characters
Next week will see plenty of retail releases, and there will also be Cisco in the middle of the week and the New York Empire State Manufacturing Index today. At least there won't be any Fed meeting or CPI or PPI-type numbers that will give us a leave of absence.
Currently, futures are down 0.7% and Musk hasn't tweeted in two hours. Have a great start to the week and see you tomorrow at the same time!
Have a very happy day everyone!
Thomas Villette
invest
"If you don't make mistakes, you aren't solving problems seriously enough."
Frank Wilczek